Last updated: 29 Jan 2012 - 16:53
The Bigtrak Junior
is a re-make of a classic toy apparently. I'd never seen one before, I remember school having a couple of floor turtles but I don't think I ever got to play with them (probably because I'd been messing around too much and not doing my work!). Basically the toy is a little programmable toy car that takes simple commands from a keypad with forward, back, turn left, turn right, pause etc. This is all very well but with only one memory location for storing your program between use and no editor only a "clear and start again" it's not much fun trying to get it to do things. Wouldn't it be better if it could be programmed from a web browser and you could actually use some sort of save/load program option to store your ingenious route design? The solution I've come up with could be argued to be over-engineered some what and quite expensive but I like to look at it as "expandable".
Section:
Tags:
Last updated: 28 Jan 2012 - 23:52

The BeagleBone comes with a basic webserver written in Javascript in the bonescript.js file. This is run by node.js which is a browser-less javascript engine. This took a bit of reading about to get my head around because the idea of javascript being used to write server side scripts was a bit odd, but the whole server seemed implausible. Unfortunately when I tried to make this do what I wanted to do for the BigTrak project, node.js wouldn't work and seems to be in some sort of version conflict but has to be maintained at this version for the Cloud9 IDE software. Instead I decided to write my own web page server in Python.
Section:
Tags:
Last updated: 28 Jan 2012 - 20:55
The BigTrak project had to be mobile, and that meant having a WiFi card attached. This looked simple on the face of it, a USB host socket on the board and a modern 32bit Linux kernel, however it became more complicated partly due to the lack of sources for the embedded system and partly because of my ambitions.
Section:
Tags:
Last updated: 28 Jan 2012 - 19:49
I was wandering how to store and represent the programs for the BigTrak. I wanted to stick to the original spirit of the toy and make it programmable via the web so I naturally got to thinking of LOGO commands. Most of my experience with the language was in a program called "WinLogo" ironically running on an Acorn Archimedes not Windows at all.
Section:
Tags:
Last updated: 28 Jan 2012 - 17:14
Having replaced the electronics in a BigTrak junior, I needed some way to control it from my BeagleBone. Initial experiments with driving the L293D directly from GPIO pins were quite successful but I quickly discovered the opto-encoders on the toy were extremely high resolution and needed some proper real-time interrupt based handling. Doing this from the high-level Linux based environment on the BeagleBone just sounded too much trouble to me so I looked around for something a bit lower level to handle the opto-encoder tick counting. I was torn between an Arduino Uno and the ChipKit Uno. In the end I went for the ChipKit for two reasons, the BeagleBone I/O is only 3.3V and not 5V tolerant at all. This would have meant level translators were required on any interface between the Arduino and BeagleBone, but the ChipKit is already 3.3V. The other reason was at full speed the motor encoder ticks come through about 1200 times a second, with two that means about 2500 interrupts a second. I've got no idea how big the interrupt overhead is for the Arduino but I thought if I handle 16 or 32 bit tick counters in the interrupt with that frequency it is going to get a bit close to the limits of available CPU cycles, the ChipKit is 32bit and has an 80MHz clock so plenty of time to do all I needed. The features I've used are all available on the Arduino, due to some pin function constraints you'll need to swap around the pin order a bit but the code should work okay on an Uno (provided it can keep up).
Section:
Tags:
Last updated: 28 Jan 2012 - 17:00
Internally the BigTrak is a fairly typical modern toy, the circuit board in it with an epoxy covered ASIC in the middle looks like the main circuit board in any cheap radio controlled car. The motor driver H-bridges are built out of discreet transistors, but as the motors only draw about 25mA running current the transistors are nothing remarkable. Quite possibly the most expensive part is the 0.1" header that the keypad plugs into.
Section:
Tags:
Last updated: 27 Jan 2012 - 20:28
The BeagleBone is an ARM applications processing platform that runs Angstrom Linux and provides a lot of 3.3V I/O connections, for more background see my unboxing and getting started article. In the unboxing review I ran a bit of bundled java-script that flashed a light on and off, but there's much more to using I/O on this powerful processor. Like with most embeded controllers these days half the effort is in getting the right function selected and enabling the pin drivers. There are several steps and modes of operation which I'll go through separately. I'll discuss command line tools and python control here, but there is a pre-written javascript library called bonescript.js that comes pre-loaded on the board that provides an Arduino-like syntax and runs on the node.js javascript interpreter, I'm not going to discuss that here as it is under heavy development and has only very rudimentary features at the moment. I'd recommend having a look through the code if you have a BeagleBone, it's accessible from Cloud9 IDE on port 3000 via a web browser.
Section:
Tags:
Last updated: 25 Jan 2012 - 20:21
The H-bridge is a circuit used in electronic control of high current devices, particularly where the device polarity may be reversed, e.g. DC motors. The name comes from the fact that the circuit typically looks like a letter "H".
Section:
Last updated: 24 Dec 2011 - 16:03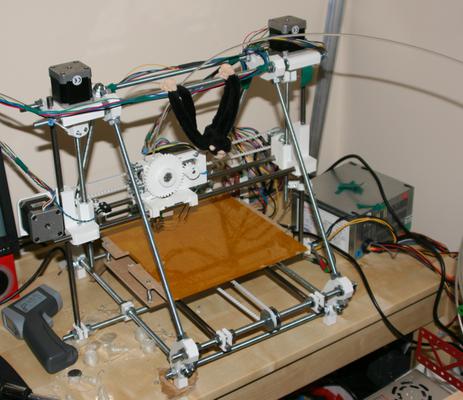 Actually I have a working RepRap now so it isn't all bad, but there are plenty (too many?) guides about what to do to make a RepRap, I thought I'd just point out the problems and mistakes I made building mine.
Section:
Tags:
Last updated: 11 Dec 2011 - 00:27
The new BeagleBone from Texas Instruments is here! Farnell sent me a review copy this week, and are taking orders. I've prepared a video intro about getting up and running with the new board which is really easy. A few of the highlights are in the review below.
Section:
Tags: